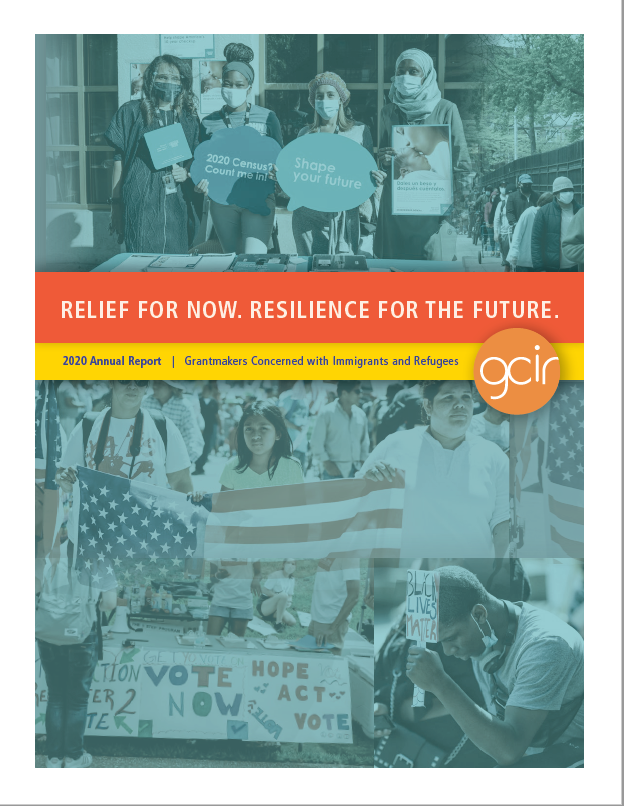 Dear Colleagues:

2020 was a year unlike any other in living memory. The fourth consecutive year of intensifying policy attacks on immigrants, refugees, and asylum seekers, as well as Black, Indigenous, and People of Color (BIPOC) communities. A global pandemic. A surge in hate crimes against Asian Americans. Tragic murders of unarmed Black Americans at the hands of law enforcement. A national reckoning with centuries of systemic racism. Wildfires, hurricanes, and floods. Deepening economic, racial, and social inequities. An endangered census and rampant voter suppression in the lead-up to the most important election in modern history. Rising authoritarianism and imminent threats to our democracy.
In the face of these extraordinary challenges, GCIR leaned into our mission, vision, and values, taking swift action to address community needs and support the immigrant justice movement.

From DACA to public charge to efforts to expand legal services capacity, we kept funders informed of the latest developments affecting immigrant communities. At our 2020 National Convening in Atlanta, Georgia, we uplifted intersectional models of service delivery, advocacy, and organizing, as well as groundbreaking efforts by immigrant, BIPOC, and LGBTQI leaders.

Time and again, GCIR rallied philanthropy to act with urgency, courage, conviction, and hope. We mobilized funders to respond to the pandemic, protect the 2020 census, and develop post-election scenarios and strategies. As our country reckoned with the legacies of racism, we shined a spotlight on anti-Blackness in immigrant communities, elevated the immigrant justice movement's efforts to center racial justice, and pushed for inclusion of immigration in philanthropic discussions on racism.

2020 marked GCIR's 30th year of galvanizing philanthropy to address urgent humanitarian needs, respond to injustices, and affirmatively advance immigrant rights and inclusion. It also marked a significant leadership transition, as GCIR's founding president, Daranee Petsod, stepped down from her post after leading the organization for 22 years.

As we look ahead, we are thrilled to have our new president Marissa Tirona at the helm. Under her visionary leadership, we will push philanthropic practice; provide a political home for GCIR members, funders, and allies; co-create platforms for funders and movement leaders; and facilitate strong public-private partnerships. We will build forward our critical role in the U.S. social justice ecosystem as a philanthropic mobilizing organization that moves money and power, and we look forward to engaging with you to build a society in which everyone thrives no matter where they were born.
In solidarity,
The GCIR Team
Review the full report to learn more about GCIR's work in 2020.