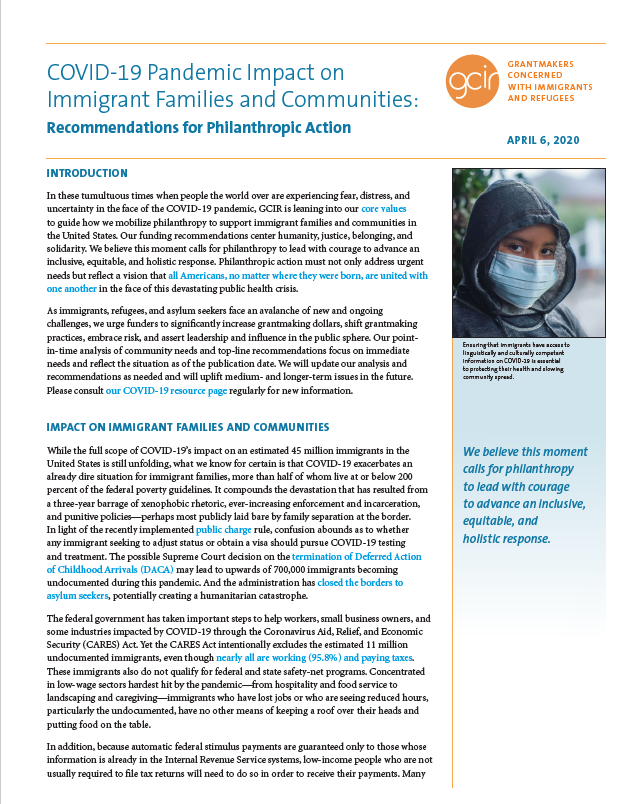 COVID-19 Pandemic Impact on Immigrant Families and Communities:
Recommendations for Philanthropic Action
In these tumultuous times when people the world over are experiencing fear, distress, and uncertainty in the face of the COVID-19 pandemic, GCIR is leaning into our core values to guide how we mobilize philanthropy to support immigrant families and communities in the United States. We believe this moment calls for philanthropy to lead with courage to advance an inclusive, equitable, and holistic response. Philanthropic action must not only address urgent needs but reflect a vision that all Americans, no matter where they were born, are united with one another in the face of this devastating public health crisis.
The pandemic magnifies existing inequities that immigrants, refugees, and asylum seekers already experience, and compounds the harm caused by a three-year barrage of xenophobic rhetoric, increasingly arbitrary enforcement, and punitive policies. To ensure our collective health and well-being, economic stability, eventual recovery, and long-term resilience, it is imperative that philanthropy prioritize these integral members of our communities, particularly mixed-status families that include undocumented immigrants. Given the magnitude of this crisis, funders must significantly increase grantmaking dollars, shift grantmaking practices, embrace risk, and assert leadership and influence in the public sphere.
GCIR stands ready to work with funders to ensure that your grantmaking and other philanthropic action is as strategic and impactful as possible. To that end, we have prepared a set of recommendations for philanthropic action, based on our analysis of the federal government's response and what we have learned from the field regarding current challenges facing immigrant families and communities.
These recommendations focus on immediate needs and reflect the current situation. We will update them as needed, as well as uplift medium- and longer-term issues in the future. For further funding guidance and assistance in implementing these recommendations, please contact GCIR's COVID-19 leads, Aryah Somers Landsberger or Kevin Douglas.