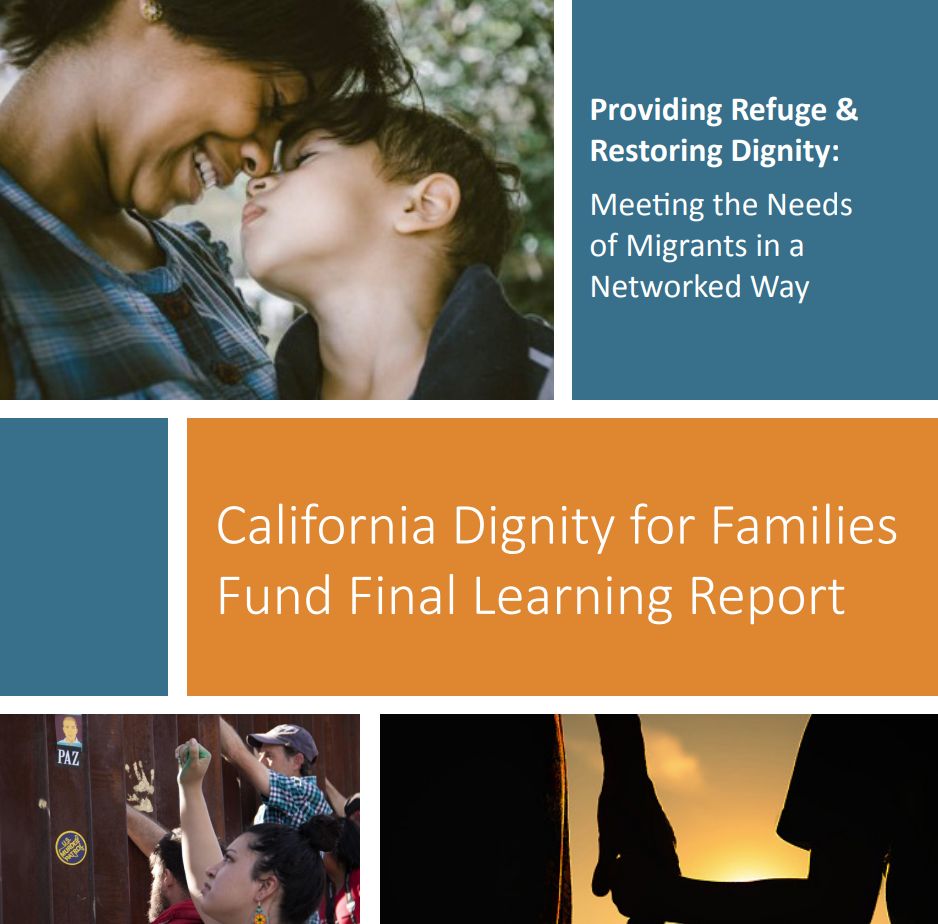 GCIR is thrilled to release today our new report capturing learnings from the California Dignity for Families Fund, "Providing Refuge & Restoring Dignity: Meeting the Needs of Migrants in a Networked Way." Launched in 2021, the Fund worked to mobilize philanthropic dollars to provide urgent humanitarian relief to newly arrived migrants, ensure due process for asylum seekers, and support their integration into receiving communities. 
Through the California Dignity for Families Fund, philanthropic partners helped ensure that frontline organizations had access to the resources they needed to meet the complex and evolving needs of migrants. The Fund's diverse advisory committee guided a process to disburse nearly $11 million in timely, equitable investments over the past two years, including $2 million in aligned giving distributed through the LA Justice Fund. 97% of this total has been distributed to 45 grantees across California. 
The Fund has been driven forward by bold action in the midst of uncertainty and has employed purposeful strategies like increasing the visibility of those historically excluded from funding and strengthening the infrastructure for responding to the needs of migrant communities, resulting in a stronger ecosystem of migrant justice groups across California. 
By evaluating the impact of the Fund and synthesizing key learnings, our new report aims to inform philanthropy and the broader immigrant justice movement of the ongoing and emerging needs of newly arriving migrants and the state of the nonprofit organizations that provide vital services to these communities. Among other key takeaways, the report found that:
The Fund increased nonprofit partners' ability to serve more migrant communities – in particular Black, Indigenous, Muslim, Latinx, and LGBTQIA+ communities; and womxn.
The multi-year funding strengthened nonprofits organizational infrastructure by increasing their staffing capacity, financial stability, and ability to plan for their long-term sustainability.
Support from the Fund strengthened connections and collaborations among immigrant justice organizations.
The report also identifies opportunities for philanthropy to support these efforts going forward, including: 
Doubling down on multi-year, flexible, and intersectional funding – particularly for smaller organizations typically excluded from traditional funding streams.
Focusing on narrative shift work and building the communications infrastructure of the immigrant justice movement.
Strengthening the connective tissue of the immigrant justice movement.
Uplifting and continuing to focus on local advocacy and legislative wins.
Although the work of this fund has concluded, our collective efforts to effect transformative change in support of immigrant and refugee communities continues. We hope the learnings contained in this new report help inform and strengthen this shared work.