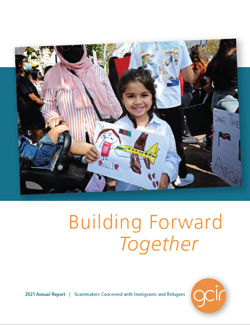 Dear Colleagues: 
2021 was a year of significant transitions for the country and for GCIR. 
It ushered in a new federal administration and, along with it, renewed hope for immigrant justice. The Biden administration began by undoing many racist and draconian immigration policies from the Trump era, including fortifying Deferred Action for Childhood Arrivals (DACA), rescinding the Muslim Ban, and ending government funding of a border wall. Devastated communities could begin to heal from the compounding traumas of the past four years and emerge from a climate of constant fear. The potential for significant federal immigration relief was at its highest in decades. 
Yet, 2021 also brought new tragedies and hardships, from the January 6 insurrection at the U.S. Capitol, to the murder of Asian American women in the Atlanta spa shootings, to the multiple crises that drove Afghan, Haitian, and other migrants to seek safety at our borders. Meanwhile, the ongoing Covid-19 pandemic, white nationalist backlash from state legislatures, and the Biden administration's subsequent actions—such as expelling Haitian migrants and failing to release immigrant detainees during the pandemic—continued to adversely affect immigrant communities and communities of color. 
Here at GCIR, 2021 marked the organization's first year with our new president, Marissa Tirona, at the helm. With Marissa's leadership and the strength of GCIR's 30-year legacy, we built forward our critical role as a philanthropic mobilizing organization that moves money and power on behalf of immigrant communities. Through our programs, resources, grantmaking, and communications, we addressed longstanding systemic issues while also galvanizing action and investments as new crises emerged. 
Emphasizing the theme of power building, GCIR: 
uplifted the leadership of directly impacted communities 
amplified the voices of historically marginalized communities often excluded from philanthropic conversations 
centered racial, gender, and economic justice more explicitly 
increased our focus on the intersection of the immigrant justice movement with other social justice movements
In the year ahead, GCIR will undertake a strategic framework development process to reimagine and redefine the organization's role within the larger social justice ecosystem, and to reexamine our strategy for advancing sustainable and transformative change on behalf of immigrants, refugees, and asylum seekers. After more than three decades of driving high impact and meaningful outcomes, undergoing this process in this moment will ensure that GCIR continues to adapt to meet the evolving needs of immigrant communities and to serve its best and highest purpose. We look forward to advancing immigrant justice and belonging with you in this new chapter as we move ever closer to our collective liberation. 
In solidarity,
The GCIR Team
Review the full report to learn more about GCIR's work in 2021.