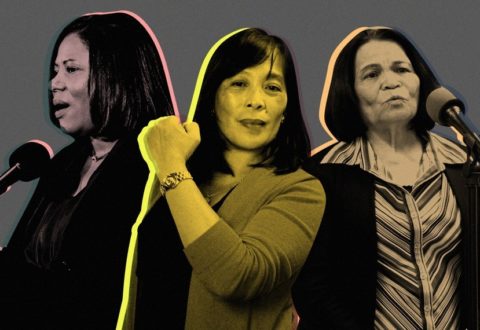 Description
The modern civil society movement to end trafficking in persons in the United States began in the 1990's, led by activists and attorneys who helped establish the Trafficking Victims Protection Act. However, the voices of those directly affected by human trafficking were not included in the early dialogue about solutions, and survivors of human trafficking began a movement of survivor leadership.
Survivors of human trafficking from a variety of labor sectors and national origins have emerged as lobbyists, educators, media spokespeople and non-profit leaders. Survivor leadership projects range from training initiatives at direct service providing organizations, to a national network of survivor advocates, to consultants hired to advise nonprofits, to spokesperson development and narrative change strategies, to community organizing among vulnerable populations, to an Advisory Council established by statute for the federal government.
However, the work to support the survivor leadership movement is not without its challenges: survivors can be tokenized by non-profits and policy makers, are often not paid for their efforts, and diverse voices within the movement at times can create challenges in identifying best practices and policy solutions to trafficking. This webinar, coordinated by NEO Philanthropy, will introduce some of the leaders and models of survivor leadership in the United States and open discussion about how best to support this movement.
Speakers
Ima Matul, Survivor Organizer, Coalition to Abolish Slavery & Trafficking
Jennifer Dillon, Communications Director, National Domestic Workers Alliance
Marzena Zukowska, Earned Media Strategist, National Domestic Workers Alliance
Renee Modesto-Jones, Administrative Coordinator, Anti-Trafficking Program, Safe Horizon
 
Moderator
Sienna Baskin, Director, Anti-Trafficking Fund, NEO Philanthropy
 
Registration
Thank you for your interest in this webinar. Please note that this call is open to grantmakers only and will be a fundraising-free zone in order to allow an open exchange of funding strategies and ideas.
Registration for this event is now closed.
Contact
If you need additional information, please email Rebecca Landy, Member Engagement Manager, Human Rights Funders Network. We will email you with instructions on how to join the webinar in advance.