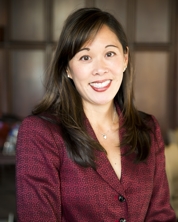 SEBASTOPOL, CA—Grace Hou, president of the Woods Fund of Chicago, was appointed in May 2016 to the board of directors of Grantmakers Concerned with Immigrants and Refugees (GCIR). After serving out a seven-month term, Ms. Hou will be eligible for re-election beginning January 1, 2017.
"We are delighted to have welcome Grace to the GCIR board," says Molly Schultz Hafid, chair of the nominations committee and associate director of the Unitarian Universalist Veatch Program at Shelter Rock. "Grace brings extensive experience working with immigrant and refugee communities in Chicago. Her career has focused on systems change through public policy, social services, community organizing and engagement, and now, philanthropy."
We extend our thanks and appreciation to John Slocum, director of migration and international programs at the MacArthur Foundation, and Alice Ito, director of community programs at the Seattle Foundation, who have rotated off the board.
Visit GCIR's website for a complete list and biographies of our board of directors.
Founded in 1990, GCIR works to influence philanthropy to advance the contributions and address the needs of the country's growing and increasingly diverse immigrant and refugee populations. GCIR partners with a wide-ranging group of member foundations, as well as the greater philanthropic community, on a broad spectrum of immigration and immigrant integration issues, including education, health, employment, civic participation, racial and economic justice, and other concerns affecting immigrant children, youth, and families.
CONTACT: Felecia Bartow, Vice President
PHONE: 510-238-9555
EMAIL: [email protected]
###