New immigration policies and enforcement efforts are directly affecting the lives of immigrants and refugees in our own communities. In this member briefing, we will hear from frontline organizations working with and for those most impacted by changing immigration policies.
Source:
Seattle Foundation, Sheng-Yen Lu Foundation
Join us to learn about the greatest needs and gaps on the ground for immigrant and refugee communities, and hear from local experts on implications for services and policies.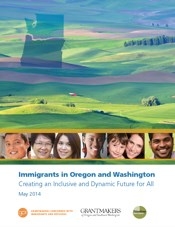 This 20-page report considers the impacts and opportunities presented by the growing number of immigrants in Oregon and Washington. The report includes overviews of newcomers' impacts on the two states' demographics, economics, and educational systems; a review of national policy implications for immigrants in the region; and a set of funding recommendations for local, state, regional, and national funders.